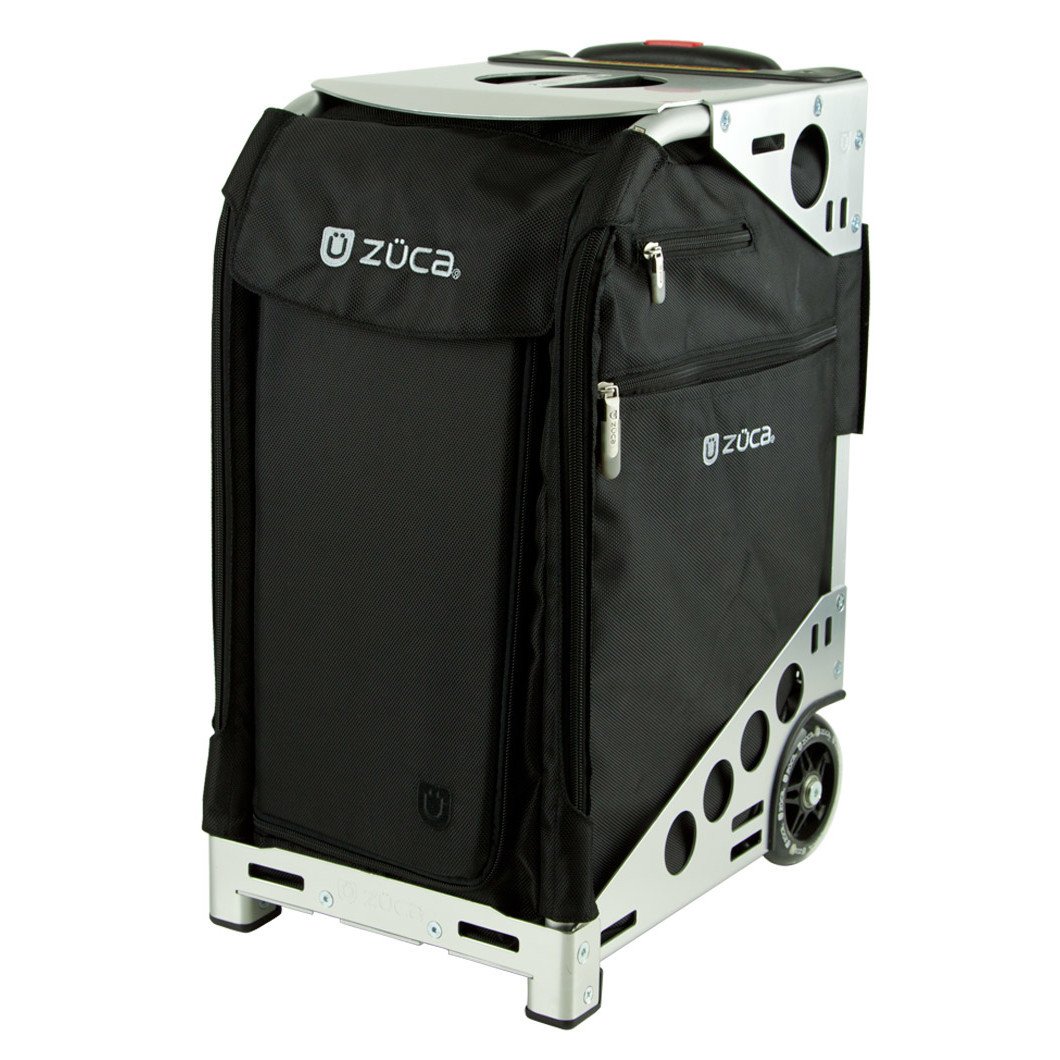 Baggage of Choice
Our 2015 Tour kicks off this weekend at TNNA in Phoenix, then we're off to Vogue Knitting Live in New York. Join the party at TNNA and drool over the fiber luscious ness (is that even a word?) at Vogue. We so hope to see you there!
We get asked about our baggage all the time.  Some people I know (without naming any specific person - mom) take as much luggage as the other people traveling with them can carry. If your pocketbook is bottomless and your friends willing to provide personal pack mule service, more power to you. However, at Bar-Maids we all agree that everyone has to carry their own baggage, and it must be functional, lightweight, dependable, and fit overhead. Ever have a zipper break on a suitcase at the airport?  It sucks!
After spending a considerable amount of time testing bags in travel stores, reading reviews, asking other travelers, I plunked down cash for the Zuca Pro and never looked back.  I could stop here, but then you would never know that:


The Zuca has saved my butt on more than one occasion because of the built-in seat. Imagine full New York subway, rush hour, after 10 hours of travel. You ride with your own "clean" seat.  Need a step stool?  Yep.
The unusual shape makes this bag easy to spot in a pile of very square bags. And if that isn't enough, it comes with wild and wonderful cover choices. Your bag can stand out or be subtle.  Clothes stay dry when it rains, and the cover provides an added layer of security.
Another remarkable feature is the flexible drawers. The Zuca Pro comes with five, stackable drawers making it easy get organized and to stay organized. When I stack the pouches, I always put my PJ "drawer" on top. Don't you need "easy to find" after a full day of traveling? For longer periods of travel, I ditch the pouches and roll my clothes in space bags (no vacuum needed). You will be amazed at how much will fit!
Last but not least, it's easy to pick up and fits overhead. Easy is good. And due to its shape, more Zuca's fit in a car trunk than other shaped small suitcases.
The Zuca Pro is not cheap. No lie. But you get what you pay for. Having owned the Zuca Pro for over five years and traveling 100,000,000 miles  ( a slight exaggeration), I bought one for my husband.
I LOVE this bag! My husband finds it "weird" to load, and a woman I know, who wears size 11 shoes, shared that there isn't enough room inside for her Neanderthal-sized feet. I have owned this amazing bag for over five years now, and it has never suffered from a broken wheel, split seam, or busted zipper. This bag is solid as a rock, continues to roll and looks as good as it did when I bought it. On occasion, airline personnel is not quite sure what "that thing" is and all it takes is a simple explanation, "It's my baggage."