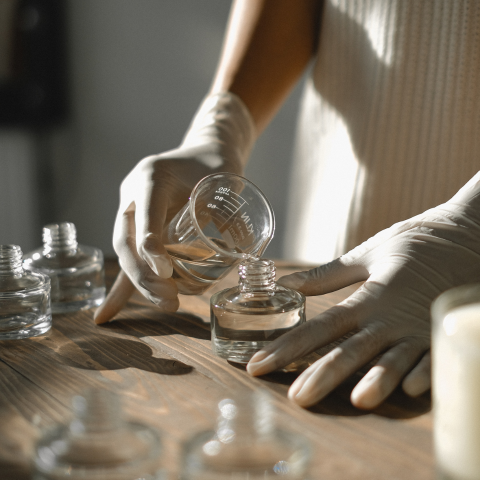 Beginners Guide to Our Ingredients
Let's take a look at the ingredients we've used for over seventeen years in our solid moisturizing products and their incredible benefits: 

Olive oil is a natural moisturizer that locks in moisture and promotes elasticity in the skin. It also prevents breakouts and helps with inflammation.
Cocoa butter 
is one of our favorites for its ability to increase circulation, which helps bring oxygen to your skin cells and reduce the appearance of scars and wrinkles.
It's also known for softening and hydrating skin while adding a bit of moisture. It can help keep your skin soft and supple without feeling greasy or oily. It's also great for protecting from harsh weather conditions like wind or sunburns!
Grapeseed oil
is another excellent ingredient for increasing circulation and reducing redness. It's rich in antioxidants and linoleic acid, which can improve elasticity and reduce inflammation.
Coconut oil
can penetrate deeper into the skin than other oils due to its long-chain fatty acids (LCFAs). These LCFAs can penetrate the epidermis and work their way down into the dermis layer, where they help repair damaged tissue by stimulating collagen production and increasing blood flow to the area. This makes it particularly good at healing scars from acne or other injuries such as burns or cuts.
Hempseed oil
is high in Omega 3 and 6 fatty acids, which help to nourish and moisturize your skin. It also contains vitamin E, which promotes cell growth and helps prevent free radical damage.
*Calendula is a flower that belongs to the Marigold family. It plays well with our other ingredients and brings additional benefits. "Calendula oil has antifungal, anti-inflammatory, and antibacterial properties that might make it useful in healing wounds, soothing eczema, and relieving diaper rash," Dr. Snehal Amin, M.D., Board-certified dermatologist and co-founder and surgical director of MDCS Dermatology in New York City.
Beeswax is a natural emulsifier that helps to bring all of the other ingredients together in a way that helps them penetrate more deeply into your skin while forming a protective barrier. It locks in moisture and keeps your skin hydrated all day while also providing anti-aging benefits like increased cellular turnover.
Each of these ingredients is independently wonderful. However, the synergy of all these ingredients creates our exceptional head-to-toe solid moisturizers. 
We Don't Use: 
Shea Butter because, when applied to the skin, it feels "sticky." The icky sticky lasts much longer than our quick-absorbing "oily" feeling bar. 
Our original formula included almond oil. We removed it for environmental reasons, namely the amount of water it takes to create one almond, and out of respect for people with nut allergies.
My grandmother's original recipe contained Lanolin. In the '60s, t was a special order from the pharmacy, costly, and stank. Seventeen years ago, the supply chain was unreliable, the numbers just wouldn't pencil out, and I just couldn't take the smell. Cocoa butter offers almost identical benefits and smells divine
*Will be used in our solid moisturizing products third-fourth quarter 2023